PIPER MAKE EDUCATOR RESOURCES SERIES

TOUCH WIRES TO COMPLETE THE CIRCUIT

You will need a Starter Kit to do this mission. Get yours here:
Complete your first circuit by touching two wires together and then build a tactile button circuit to complete the circuit by pressing the button.
Code your first loop to report the running status of the circuit in the console.
Make connections to the buttons you use on a daily basis (including the keyboard buttons on your computer, the buttons on a vending machine, etc.)
You can share the mission directly to your Google Classroom after logging into your Google educator account in the top right corner of Piper Make.
Check out our easy assignment template that you can use to ask students to share their work by including pictures of their final circuits and code.
Check out our Python-focused assessment that you can copy and share directly to your Google Classroom.
Useful vocabulary terms to use in classroom: input, output, microcontroller, GPIO pins, circuit
Console numbers not changing when you touch your wires together?
Ensure that the wires are pushed in all the way (touching the metal rail along the bottom)
Ensure that you've plugged the wires into the right GPIO (take a look at the Digital View to see which pin you're affecting)
Not sure what "LOW when pulled UP" means?
This generally refers to pull-up or pull down resistor circuits. Read more about those here. In this case, this allows the signal to be to be rounded UP to the binary TRUE. when the wires are touched.
In this lesson, students will touch together two wires for the first circuit and then build this button circuit for the second.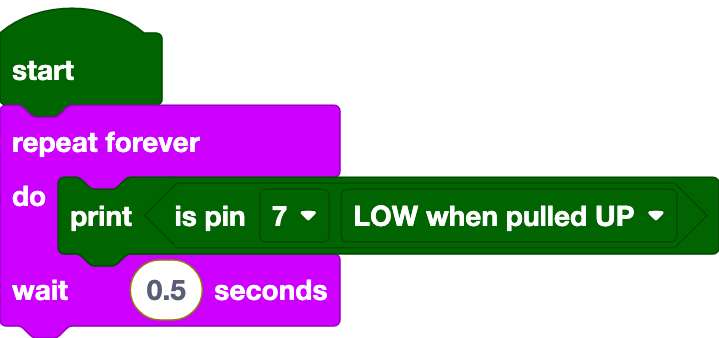 This is the final code that is created. Download the embedded PNG and use the CREATIVE mode to import it to a new workspace: